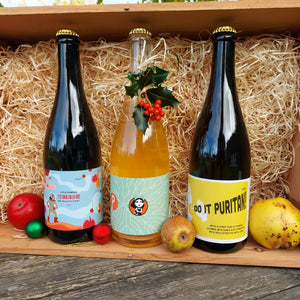 special 15% discount until 19 December or while stocks last
For those who are more adventurous in their taste we have curated this three-pack of gorgeous co-fermentations!

To Boldly Go combining perry pears, Discovery apples and sour cherries, is our take on fine Lambrusco and, with its creamy sparkle and cherry fruit, is a dead ringer and killer match with charcuterie, among many other things.
Do it Puritan Quince blends super perfumed quince wine into a mix of apples and pears before bottle conditioning and the result is a sparkling, sensationally fragrant, tropical citrus fruit explosion!
La Pera, one of our collaborations with famed Cambridgeshire brewer Pastore, is a beautiful wild golden ale refermented on perry pear lees, barrel aged and bottle conditioned. It's a fine combination of malt and fruit with bright acidity and all the joys of the pear.