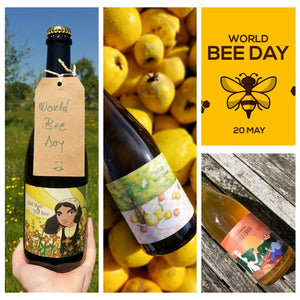 special 15% discount until 19 December while stocks last
In honour of World Bee Day 2023, we gathered a trio of three of our favourite bee-friendly ciders for you to enjoy. We loved them so much that this little selection is still here, and joins our festive selections for 2023. 
This leads with Old Man & The Bee 2020, the cider crafted from the start from the best fruit from our Home Orchard, and named in honour of the orchard's founder, Mark Murray, and the humble bee.
Added to this is Table Cider, our bestseller, crafted from both cider and dessert varieties, so calling on all the skills of our winged friends. Plus Still Life With Quince 2020, this magic blend of barrel-aged cider and quince wine, with its honeyed tones and exquisite fragrance.
For more on World Bee Day, check out our blogpost
If this is a gift, let us know so we can wrap in our coloured tissue paper, and pop a card in with your message
no further discount
Free shipping over £75