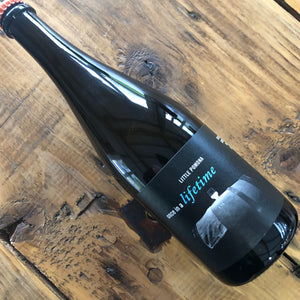 Who would have thought that the simple act of bringing together a seconduse ex-white burgundy barrel with a nascent cider made from beautiful Egremont Russet apples and leaving them alone together for six months we could create something so utterly perfect in every aspect?
What does perfection look like? With Once In A Lifetime it's the enchanting scents of sweet flowers and white peach and the taste waves of luscious fruit. Taut acid gives the cider energy and poise but it's no acid bomb. It's all fleshy peach, honeydew melon and kiwi, infused with subtle signs of star anise that is so characteristic of this apple variety. The barrel lends a little perfume and hints of sweetness but nothing more and it has remarkable balance, length and complexity.
Serve cold and drink with things like garlicky seafood dishes, chicken and tarragon pie or with just about anything on a cheese board.
The Cider Sessions is a vehicle for our small volume, rare and/or experimental creations.
Follow us @littlepomona or sign up to our newsletter to be the first to hear about them.
Gluten-free. Vegan friendly.. Unfined, unfiltered. Contains no sulphites.
8.4% abv