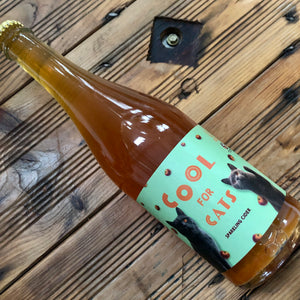 When Nicky Kong from The Cat in the Glass approached us about making a cider to celebrate her second anniversary as one of the leading UK online suppliers of fine cider we jumped at the chance!
Much thinking and discussion took place between us after which, on a glorious sunny summer day, we welcomed Nicky to the cidery to taste many samples of cider from different barrels, tanks and vintages to create this joyfully delicious bottle of cider.
We wanted something full of juicy fruit, complex and layered, yet super drinkable, and we found it in a blend of barrel matured Dabinett (50%) and Yarlington Mill (40%) enlivened with a little Bisquet (10%) from tank. From this, Cool for Cats was born, starring Nicky's purrfect cats, Monty and Barney.
We hope you enjoy drinking it as much as we enjoyed making it. Wassail!
Gluten-free. Vegan friendly. No added sulphites
7% abv
Design: Sam Forbes, @forbescreative.co.uk