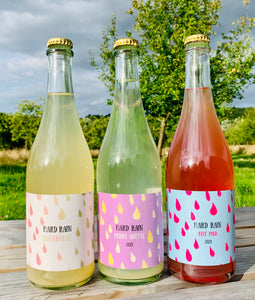 To mark featuring on Sunday Brunch as part of Gabe Cook, The Ciderologist's, celebratory trio, we're revamping our Box Of Rain, and offering it at a special price so everyone can enjoy a taste of Summer, Little Pomona-style.
May we introduce three of our favourite Hard Rain ciderkins and perrykins- the ever popular Hot Pink which took to the telly, Perry-Quette, where glorious perry pears join with freshly-pressed grape-skins from the vineyard on the farm for a zest-fest, and the latest release, Siegerrebe, where the second pressing of Dabinett from Brook House Farm marries with grapeskins from our friends at nearby, stellar winery, Astley Vineyard. 
And voila! your very own Box of Rain!

We are offering this at the very special price of £55 rather than £60.
no further discount