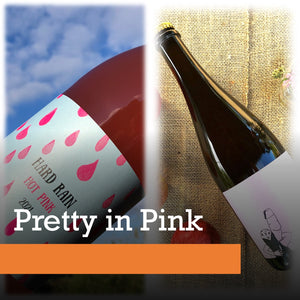 Two of our most joyful creations to celebrate the colour pink and welcome in the Spring and Summer.
Our duo comprises:
🍎 The joyfully expressive Hard Rain - Hot Pink 2021, where superstar apple Kingston Black marries perfectly with locally grown Chinook hops and blackcurrant cordial. Before dialling down the vibes into 
💃 The sumptuous Tiny Dancer, where our characters dance across the label, illustrating the seamless fusion of barrel and blend in this delicious cider

Whatever you choose, you can collect or we can ship.
🏡 For Collection, we are open Saturday 12-7pm, Thursday 4-7pm, or by appointment.
🎁 If this is a Gift, we can wrap the bottles, and include a card with your special message.
Please just note details in the Notes box.
Special offer - no further discount