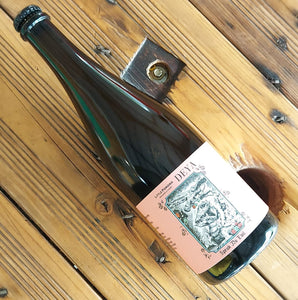 Speak No Evil is one of a trio of beers we are delighted to have collaborated on with the wonderful flavour maestros over at Deya in Cheltenham.
It began life as one of Deya's wheat beers, before being fermented and conditioned with lees from one of our spontaneous fermentations and aged in oak in the cellars of Deya. Finally, Speak No Evil was refermented on apple pomace for four weeks.
It's a fascinating blend of flavours. Like an orchestra playing complex melodies but in a relatively understated way. Without doubts notes of apple spring up, alongside candied watermelon, a gentle acidity and a soft finish.
Limited in production, we're thrilled to have some bottles to share with our newsletter subscribers and visitors to our Tasting Room.
Available to the trade through Deya, we're thrilled to have some bottles to share via our webshop and with visitors to our Tasting Room. And when in Cheltenham, do check out Deya's wonderfully welcoming tap rooms too - you won't be disappointed!
6.3% abv
Artwork by the outrageously talented Thom Hobson
Check out also Hear No Evil and See No Evil.