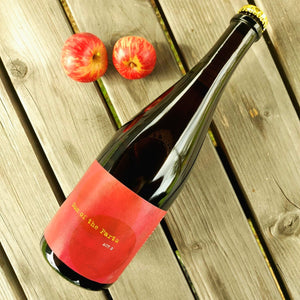 Sum of the Parts is our foray into the risky business of long barrel ageing and fractional blending, based loosely on the solera systems used in sherry production. Our solera began in 2017 and contains ciders from that vintage through until 2021, exclusively either high acid or high tannin varieties, such as Foxwhelp or Ellis Bitter. 
Act 2 brings the older parts of the Solera together into a complex, cerebral drink. Here the aromatics are a joyful mix of berry fruit pastilles, sweet wood, lanolin and Turkish Delight. This is a rich, succulent, dry cider, glossy and plush in texture with an almost pot pourri-like perfume running through it. Red apple skins meet red berries before very fine tea-like tannins emerge at the finish.
Serve lightly chilled. No added sulphites. Gluten and vegan free.
7.6% abv