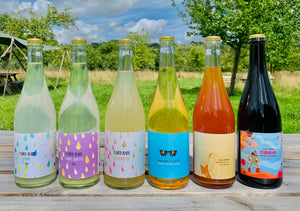 special price until the end of August
To celebrate Summer - or the rollercoaster of weather that represents that purports to be summer - we've put together six bottles we reckon put the sun into your lives whatever the weather. Called Summer of Fun '23, to mark Hard Rain Hot Pink's debut on Sunday Brunch, we've got a very special offer for the rest of August.
We have three of Hot Pink's Hard Rain family, including Perry-Quette, where glorious perry pears join freshly pressed grapeskins from the bijou vineyard on the farm we are on, the zesty Perry perrykin, and the newest release, Siegerrebe, marrying apples with freshly pressed grapeskins from talented winemakers at nearby Astley Vineyard.
To add to this, we are capturing the truly zingy Bright Lights, barbecue's best friend, the bottle conditioned Yarlington Mill, and the truly unique To Boldly Go - Who Mourns for Grapes?, where sour cherries meet perry pears and Discovery fruit, emerging pet nat style, with glorious fragrance, inviting sparkle and fascinating flavours.
Do let us know what you think. And when you can, do come and see us!
no further discount
to get free shipping, why not add one more bottle?