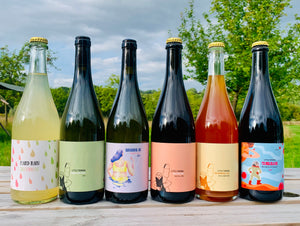 special price until end August
To celebrate our Summer new releases, we've crafted the Taste of Summer '23 case. To mark Hard Rain Hot Pink's debut on Sunday Brunch, we've got a very special offer for the rest of August.
Ranging from Hot Pink's newest sibling, Hard Rain Siegerrebe, through to our expressive sparkling cherry-infused creation - To Boldly Go - Who Mourns For Grapes - our case also includes a glorious still perry from nearby Throne Farm, barbecue's best friend, the bottle conditioned Yarlington Mill, plus Wading In, Egremont Russet enrobed with a spell in ex-Burgundy French oak casks, and Peut-Etre, the classic Dabinett / Michelin combo, done Little Pomona style, with a spell in red-wine barrels.
Do let us know what you think. And when you can, do come and see us!
With free shipping. No further discount.