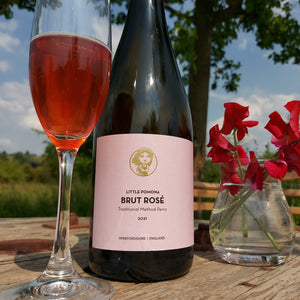 Traditional Method Perry
Famously described by Napoleon as the champagne of England, perry really is the epitome of true English wine.
Our new Brut Rosé gains its vivid orange red colour from handpicked damsons grown on gnarled, old trees in a nearby hilltop orchard. The perry itself is crafted from a wonderful blend of local pears, specially chosen for their balance of delicate flavour, exquisite aromatics and delightful structure.
After blending the perry was sent to bottle to referment, exactly the same technique used by champagne makers. After 12 months it was disgorged by hand and the bottles topped up and resealed.   
The result is beautifully aromatic, with sweet violet flowers, Turkish Delight and almond blossom billowing from the glass. In the mouth it's bright and fresh with a soft, creamy feel and complex flavours of ripe pear, blueberry, sweet plums and their stones, all intermingling with rose petal perfume.
This is as unique and elegant a drink as you could hope to find, making a delightful aperitif as well as partnering such diverse things as charcuterie and fruit-based desserts with aplomb.
Chill well. Contains sulphites. Gluten free, vegan friendly
8% abv