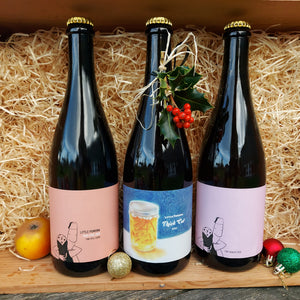 special 15% discount until 19 December while stocks last
The secret is finally getting out that cider – especially bold, fruity West Country ciders – are the perfect drink to partner foods with a little heat and spice. We've picked out a fine trio from our range to prove the point.
Tiny Dancer brings together three barrels – one ex-white wine and two ex-brandy – of wild fermented Dabinett, that classic apple of Herefordshire orchards, before bottle conditioning. The cider is fruity and spicy with a hint of smoky barrel. This and its soft sparkle make it excellent with the umami of spicy stews and roasted vegetables.
Peut Etre, a beautiful red-wine-barrel-aged still cider, is a blend of two classic apples, Dabinett and Michelin. That time in barrel has resulted in a super juicy, super fruity, mouth wateringly lovely cider. The sheer weight of fruit sweetness on the palate means it works really well with fairly high levels of spice and heat. Spicy wings, fiery, tangy barbecue sauces would be a great choice for this one.
Thick Cut Yarlington Mill, with its bold autumnal flavour of candied apricot, orange oils, winter spices and rich, fruity sweetness from time in ex-cognac casks, perfectly complements the heat and spice of Indian cuisine.
If this is a gift, let us know so we can wrap in our coloured tissue paper, and pop a card in with your message
no further discount