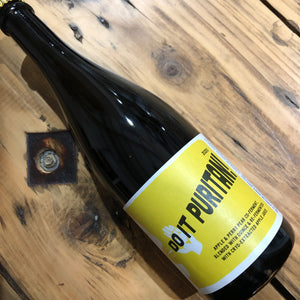 apple & perry pear co-ferment, blended with quince & re-fermented with cryo-extracted apple juice
Do it Puritan Quince 2020 began life as a co-fermentation of apples and perry pears, later blended with pure quince from barrel and bottled with a little cryo-extracted Egremont Russet, bringing about a second fermentation in bottle and a gentle sparkle.
Insanely aromatic, quince dominates the nose, all tropical fruit, exotic blossom and rose water. In the mouth it's crammed full to bursting with super juicy, perfumed and citrussy tropical fruit. The perry pears bring a creaminess to the mouthfeel along with some greener notes whilst the apple lends fullness and subtle tannins.
A kombucha-esque twang at the finish only serves to kick up the flavours making it uniquely and amazingly moreish!
The intensity in the drink will match equally intense dishes, while its exotic sensory nature also offers much to play with. Fruity hot Caribbean and fragrant Thai food would be ideal. Salads, vegan dishes. The sparkle and aromas hit young goats cheese, whether solo or in tarts. Herby white fish dishes... the list goes on. That said, it's just great to drink by itself.
Gluten free. Vegan friendly. Drink chilled. 7% abv