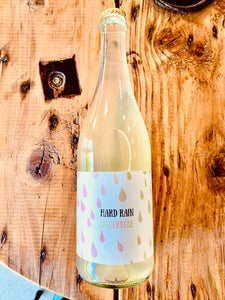 pet nat ciderkin with hops & blackcurrants
Made from the second pressing of Dabinett apples with the addition of water, and later refermented on the skins of freshly pressed Siegerrebe grapes, from our friends at stellar English winery, Astley Vineyard, in Worcestershire. This is our latest reprisal of an old historic drink called ciderkin, and it's an amazing way of upcycling pomace!
This edition has an intriguing nose, fruity, sweet and earthy all at the same time. In the mouth it's very lightly sparkling, with flavours of Cape Gooseberry and peach, dried flowers, fuzzy apricot tannins and touch of kombucha-esque bite at the finish, making it super-moreish and refreshing. Definitely one for hot days and holidays!
Serve very well chilled. Pour Carefully or better still,  rouse to enjoy the lovely sediment!
Gluten free, vegan friendly and no added sulphites.
 3.8% abv
Artwork: Sam Forbes, @forbes_creative