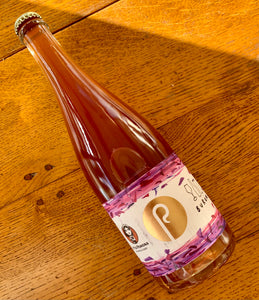 Barrel aged wild ale with plums

We were thrillied to collaborate on this project with our talented friends at  Pastore Brewery and with the lovely people at the Burum Collective.
A tasting day at the brewery in Cambridgeshire with Helen Anne Smith from Burum, resulted in a blend of Tawny Port and Rioja barrel-aged golden wild ales.

This blend was then conditioned on foraged plums that underwent carbonic maceration, a technique borrowed from winemakers to bring out richer fruit flavours.
Cherry, Mirabelle and Victoria plum varieties were used, plus wild and commercial damsons, along with sloes and greengages.
It's an intense, complex, sour, funky, fruity, delicious and downright plummy beer!
75cl  7% abv
Ingredients: water, malted barley, plums, hops, yeast, lactobacillius
Unfiltered, unpasteurised, vegan