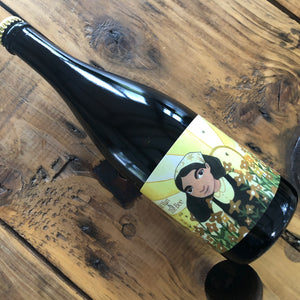 Dry, still cider 
Old Man & the Bee is our annual homage to our beautiful home orchard and the wonderful fruit it gives us every year. 2020 was a fine season. We escaped early frosts, and with a long warm summer and a mild autumn we harvested balanced fruit, with attractive acid and ripe tannins.
The colour of golden syrup, this "Old Man" is super fragrant in an unusual way, all barbecued pineapple and fresh sage. In the mouth it is the Dabinett (two-thirds) that's bringing all the sweet nectarine and clove infused juice to the party, whilst Harry Masters Jersey (one-third) brings the wet slate tannins and Mirabelle plums. The second- and third-use ex-white burgundy barrels in which this cider spent 11 months lend spice and subtle vanilla.
All in all, like the best ciders, this is fleshy and juicy, and super versatile with food. It loves salt, cheese and protein – croquettas anyone?
No added sulphites.
Serve cool. Gluten free. Vegan friendly.
7.4% abv