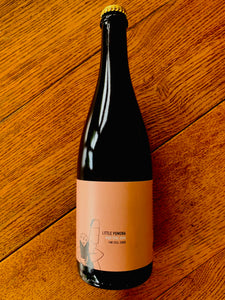 fine still cider
Like many cidermakers, we've long viewed the ubiquitous Michelin apple with suspicion. Its well behaved trees and abundant annual crops are not typical of the best cider apples. Our good friends at Ross on Wye Cider & Perry, released the first vintage of their flagship cider in 2018 named Raison d'Être, a blend of 50% Michelin and 50% Dabinett, and it made us think, maybe just maybe…?
Fast forward to the 2020 harvest. We sourced fine, ripe, handpicked Michelin from Dragon Orchard, Herefordshire, and similarly beautiful Dabinett from Brook House Farm, pressing and fermenting them together. Both quite tannic apple varieties, to help soften them we moved the nascent cider into some lovely ex-red wine barrels.
There the cider developed beautifully and now it's all sweet flowers and spiced apple pie on the nose, with candied apricots, vanilla, cloves and peach in the mouth. It's a super juicy, fruit forward, joyful showcase of these two apples and proves our friends over in Ross on Wye know a good thing when they see it. Chapeau!
Serve cool. Gluten free. Vegan friendly. No added sulphites.
7.4% abv