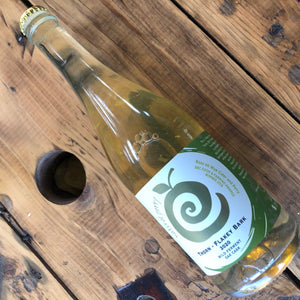 wild ferment, oak cask, natural perry
"This is Thorn but not as you know it," write the Ross Cider crew. "90% Thorn, 10% Flakey Bark meets fermentation in ex-Raison d'Être barrels. The result is completely unique.
"Rather than the big acidity of Thorn, or the challenging astringency of Flakey, or even the smoke of oak casks, everything is rolled into one. One luscious, juicy, unbroken, flavour that begins on the lips and fills the mouth completely. Gorgeous, quaffable, green and silky, full flavoured perry with no compromise.
"May Hill which you can see from Broome Farm, the home of Ross Cider, is said to be the ancestral home of perry, and the pears in this bottle were handpicked from its trees. Generations ago orchardists propagated these special varieties for their excellent qualities. And it is to them that we owe a debt of gratitude as we enjoy each bottle."
May contain a natural sediment from bottle conditioning. Contains traces of sulphites.
5.8% abv