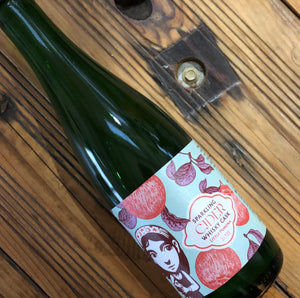 Made originally for the Japanese market, this seemed like so much fun that we just felt we had to share it back here in Blighty.
As well as the dinky half-bottle size favoured by Japan, there's a very limited number of 75cl bottles too.
It's a sparkling cider which is really juicy and peachy. There is a tingly spiciness along with a rich texture from its time in ex-malt whisky barrels. It has a lovely creamy sparkle and tannins which linger softly. To be enjoyed with friends and food. 
Gluten free. Vegan friendly. No added sulphites
7% abv