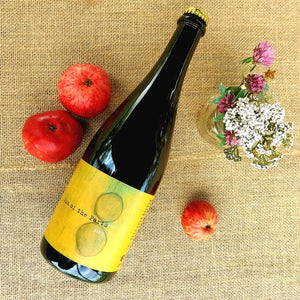 Sum of the Parts is our foray into the risky business of long barrel ageing and fractional blending, based loosely on the solera systems used in sherry production. Our solera began in 2017 and contains ciders from that vintage through until 2021, exclusively either high acid or high tannin varieties, such as Foxwhelp or Ellis Bitter.
Act 1 brings together some of the younger components of the solera into a fine, bracing creation. Crystal clear, sunshine in a glass, the aromatics are pronounced and beautiful. Honeysuckle, lemon blossom, lime leaf and pith as well as a hint of menthol coolness.
It has a tingly, core of polished acid giving vibrancy and energy to flavours of apricot, baked apple. pineapple, red apple skin, white peach, nutmeg and vanilla. With a glossy weight to it the tannins are refined and ripe.
Serve lightly chilled. No added sulphites. Gluten and vegan free.
7.9% abv