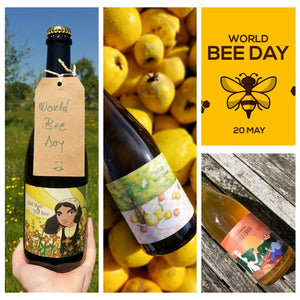 In honour of World Bee Day 2023, we have gathered a trio of three of our favourite bee-friendly ciders for you to enjoy.
This leads with Old Man & The Bee 2020, the cider crafted from the start from the best fruit from our Home Orchard, and named in honour of the orchard's founder, Mark Murray, and the humble bee.
Added to this is Table Cider, all the trees that produce our year-round bestseller depend on the bees, and Still Life With Quince 2020, with its honeyed tones and exquisite fragrance.
All this at a special World Bee Day price of £40.
For more on World Bee Day, check out our blogpost
no further discount. P&P not included. Free shipping over £75