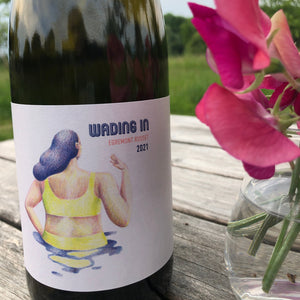 The new vintage of Wading In is the happy marriage of one of our favourite apples, Egremont Russet, and some beautiful French oak barrels.
Sweet wallflowers, almond blossom, lemon oil and honey are just part of the gorgeous aromatics that greet your nose as it reaches the glass. In the mouth, a lovely framework of bright tropical citrus is adorned with orange zest, apple strudel and a note of star anise. It's got a beautiful creamy mouthfeel, succulent juicy acids and a distinct minerality at the finish.
Ciders like these are super versatile with food but top of the list would be seafood – whole, herby, baked fish, dressed crab or pan seared scallops – and beautiful vegetarian dishes, such as dressed, roasted courgettes or Mediterranean salads.
Serve cold. Contains sulphites. Gluten free. Vegan friendly.
8.3% abv