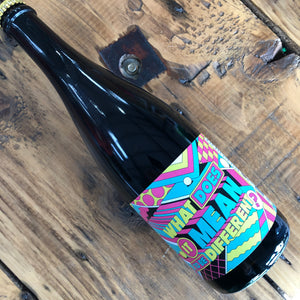 We have been thrilled to team up with leading ethical drinks consultant, Alex Fatho-Bland, Place of the Way, and distributors Cider Is Wine on an important collaboration that both seeks to celebrate diversity while also raising funds to support therapy sessions for those in the hospitality industry facing mental health challenges.
Available to bottle shops and the on-trade through Cider Is Wine, we are delighted to have some bottles for our webshop and those who visit our Tasting Room.
So, we're delighted to present to you the still  Neighbourhood Dining Edition of What Does It Mean To Be Different?  
"We're a cider that wants to open up the conversation and ask "What does it mean to be different?"
"Bartenders, chefs, stylists, songwriters, gardeners, teachers, tattooists, astrologists - everyone has a different answer… because there is no right one. Just authenticity and diversity without discrimination, proudly sitting at the table.
"Our double A(pple)-side edition celebrates the hospitality industry with colour and flavour at its core. Street food and fine dining. Front and back of house. We share differences, but are one whole of a fantastic industry… so we created a still and a sparkling cider.
"Our story of diversity exists like every apple and amazing, authentic cider you've not yet tried. Crafted with 100% juice from a blend of bittersweet cider varieties, this is perfumed, dry and juicy, with soft tannins from time spent in ex-red wine barrels.
"This cider is like wine my friend, with a natural affinity to dishes of all hues. Whether light meat or fish dishes with herby sauces, glorious goats cheese and asparagus, courgette or red pepper tart, or something more mediterranean, this is one to savour."
7.4% abv
Serve cool not cold. No added sulphites.
In addition to part of the profits from bottle sales going towards free one-to-one therapy sessions for hospitality staff with Me, Myself In Mind, tips can also be given via the QR code on each bottle.
Many thanks to Imie Augier, Twin Province, and Sam Brotchie, Le Bab, for their help in developing these ciders.
Art with apples, by David Oku
Awareness project: #WRESTLINGDEMONS #ThinkDifferently