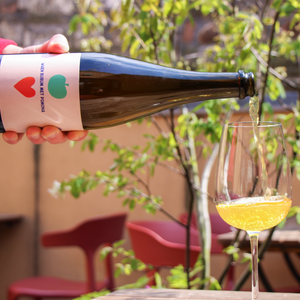 🎉 Little Pomona & Burum Collective collaboration  🎉
Taking advantage of the harvest internship which Burum's co-founder, Helen Anne Smith, spent with us in 2021, we decided to make some ciders together. In documenting the process, in words, images and video, the Burum team have created a fascinating addition to their educational programmes. We hope that the two ciders we have crafted will be a worthy complement.
When Burum Met Pomona 2021, a still cider, is the first of the pair. We took gorgeous hand-picked Dabinett apples from Brook House Farm, wild fermented them and then matured the cider in ex-Chardonnay barrels for six months before bottling.
In the end it's become a super juicy, "peach juice and tangy orange dripping from your chin" type of cider. If you trapped it in coloured gelatine pastilles, this would be the world's tastiest wine gums!
Serve cool. Gluten-free. Vegan friendly. Unfined, unfiltered.
No added sulphites.
7.4% abv