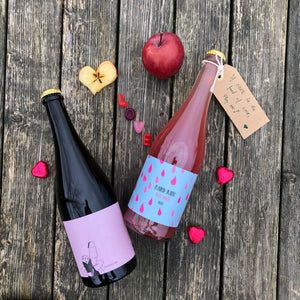 Celebrate the joy and vivacity of love with a pair of our special ciders.,
🍎 Kick off with the vibrantly expressive Hard Rain - Hot Pink 2021, where superstar apple Kingston Black marries perfectly with locally grown Chinook hops and blackcurrant cordial.
💃 Then move on to the sumptuous Tiny Dancer, with our characters dancing across the label to illustrate the joyful fusion of beautiful barrels and a wondrous blend of top cider apples.
Special offer, valid for February. No further discount
Whatever you choose, you can collect or we can ship.
🚛 Final shipping date for Valentine's Day: Monday 13 February. Please place your order by 10am.
🏡 For Collection, we are open Saturday 12-3pm, or by appointment.
🎁 We can wrap the bottles, and include a card with your special message. Please just note details in the Notes box.