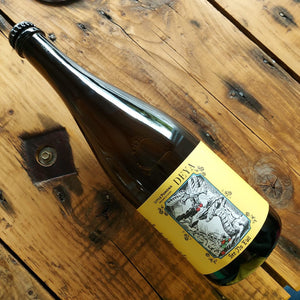 See No Evil is one of a trio of beers we are delighted to have collaborated on with the wonderful flavour maestros over at Deya in Cheltenham.
The base beer for the three-part collaboration between Toby, the mixed-fermentation guru at Deya, See No Evil's malt-bill includes wheat, and it is fermented and conditioned with lees from one of Little Pomona's natural fermentations.
Released sans pomace refermentation - see Hear No Evil and Speak No Evil for that – this is gently tart without being too sour. It has a fruity brett aroma without being too funky. It has has depth and complexity without being too intense.
Available to the trade through Deya, we're thrilled to have some bottles to share via our webshop and with visitors to our Tasting Room. When in Cheltenham, do check out Deya's wonderfully welcoming tap rooms too - you won't be disappointed!
6.3% abv
Artwork by the outrageously talented Thom Hobson
Check out also Speak No Evil and Hear No Evil.